Video Stills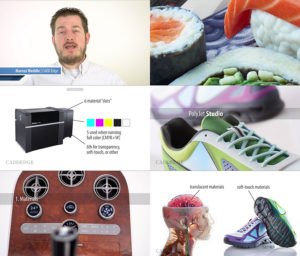 This video was compiled from a combination of video and still image content from Stratasys (they make the product, while CADD Edge is a distributer), imagery I created through motion graphics, and video I shot.
I wrote this piece to simply give a quick intro to this groundbreaking new color 3D printer. Yet by using unique elements (such as the starfish which is exclusive to CADD Edge and yes, it's really completely 3D printed straight from the J750!), and re-editing the stock footage provided to our competitors, I created something of value both in itself and for directing users to deeper content.
While our competitors had access to 80% of the raw materials that I worked with, this video has heavy editing changes to make it unique. It was so successful that as of 2016, searching for J750 on YouTube will bring up this video just after the vendor's own launch video! A call to action (CTA) in the video link pushes to the CADD Edge website with a full product page and further gated content in the form of a recorded webinar.
Produced in Adobe Premiere with Adobe After Effects for some of the motion graphics work. A co-worker at CADD Edge handled the camera duties for the shots I appeared in.
Tap to watch the full version below: